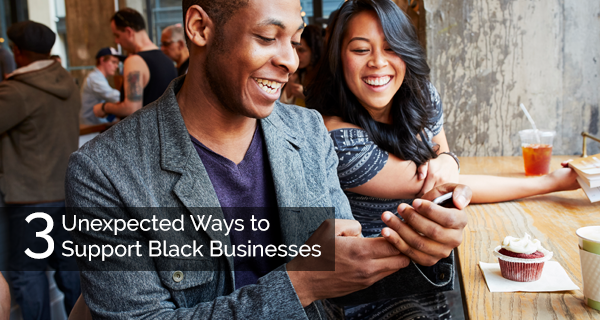 3 Unexpected Ways to Support Black Businesses
We all know how important it is to support Black-owned businesses or #BuyBlack. If we want to create jobs and build wealth, we must also invest in our community so that everyone can grow stronger together.
Yet supporting Black-owned business doesn't always mean you have to spend money! Here are three unexpected ways you can support Black-owned businesses and make a big difference in our community:
1. Provide Online Reviews
Did you know that 84% of people trust online reviews just as much as they trust word of mouth reviews from their friends?
These online reviews can make or break a business in our community. Some businesses feature testimonials from happy customers on their website or social media. If this is the case for a small business in our community, take the time to write them a testimonial about your experience that they can feature.
If they don't feature these testimonials online, you can offer a positive review on review boards like Yelp and Google Reviews.
However you accomplish it, the idea is to boost the signal of Black-owned businesses and help new customers discover something fresh. It takes no money and hardly any time for you to offer a great review!
2. Organize Local Events
Most of the ideas in this article focus on how to help a single business at a time. However, you can help several businesses at the same time by organizing special events. It's easy to do and lets you lean on your existing networks!
First off, you need to come up with a special event. Some are good for any season (like a book signing or art show by local Black authors or artists) and others are tailored for special holidays (like Kwanzaa). Then you make arrangements with local Black-owned businesses to see who wants to participate.
The idea behind all of this is pretty simple: it's a great way to bring members of groups like your church or your child's school to a fun event involving the Black-owned businesses you love and the community you love. They'll remember the fun they had and come back to these businesses at a later time.
3. Social Media Engagement
One of the absolute best ways to help support Black-owned businesses is also the easiest. In fact, all you need is a smart phone! What's the secret? All you have to do is engage with your favorite businesses on social media such as Facebook or Instagram!
There are several ways to do this. You can "like" and follow these businesses, which helps you stay on top of anything new they are doing. And you can share special events and announcements with your friends and followers, which helps generate buzz for the business.
Commenting on their posts is also great, especially when you are discussing a positive experience you had with this business. As with online reviews, many people like to research companies before they make a commitment, and seeing lots of positive customer engagement is a sure sign of a solid business!
The Bottom Line
If you want to help Black-owned businesses make history, you have to let others know how amazing they are to encourage everyone to #BuyBlack. Use these three easy methods to showcase the Black excellence in your community and share their greatness with the world!