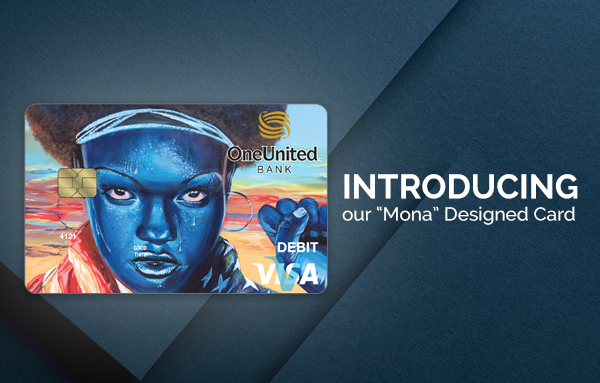 Introducing the Newly Designed "Mona" Cards!
OneUnited Bank is honored to introduce our new "Mona" Visa Debit and ATM cards! The response to "Mona", the face of the #BankBlack Challenge, has been so positive that we decided to introduce the newly designed cards to put "Mona" in your hands!
OneUnited Bank, the largest Black owned bank in America and the first Black internet bank, launched the national #BankBlack Challenge to harness the collective economic power of the Black community and allies of the Black community who embrace economic development. The Black community spends $1.2 trillion annually. What better way to show that collective economic power by having "Mona" cards transacting business across America!
If you currently have a OneUnited Bank Visa Debit or ATM card and would to replace it with a "Mona" designed card, simply log in to online banking and under Additional Services (top right corner), select and complete the Choose Card Design form. Your new card will have your existing account number (your account number will not change) and will arrive within 14 days. And don't worry… your existing card will work until your new card is activated.
Yes, we are very excited to introduce the newly designed "Mona" Visa Debit and ATM cards!