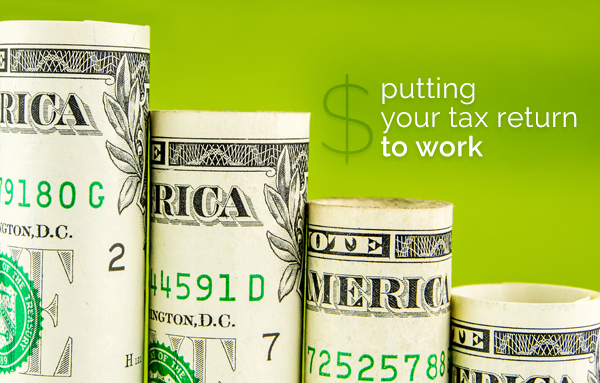 4 Ways to Make Your Tax Refund Work for You in 2017
Congratulations! You just found out you're getting a tax refund this year.
If you have bad credit, however, the best use of that money is not buying something expensive or lavish. We know – bummer. Instead of spending your refund, use it to help rebuild credit. It doesn't matter how much you're getting back, even the smallest amount can be put to good use and can help strengthen your credit score. Here are some ways you can make your 2017 tax refund work for you by using it to rebuild credit.
1. Pay Down Any Collections
If you have any accounts in collections, we always suggest you start there. According to Credit Sesame, "In the newest versions of the FICO and VantageScore credit scores…paying or settling your delinquent debts, specifically those that have been sent to collections, can result in a higher credit score. Both FICO 9 and VantageScore 3.0 exclude collection accounts from score calculations once they've been paid off." So use your tax refund to chip away – or completely pay off – any accounts in collections. Doing so can immediately raise your credit score for an instant win.
2. Bring Down Your Credit Balances
By bringing down the balances on your credit cards, you can start bringing up your credit score. There are use this calculator to find out.
Investing the money is another great way to use your refund to help you build your credit. Place it in a high-interest savings account or high-interest checking account to start building an emergency fund. While building up a savings account won't immediately affect your credit score, it can help you rely less on credit cards for future purchases.
Apply for a secured credit card such as the UNITY Visa Secured Card. A secured card, or second chance credit card, is a card that works like any other credit card but is funded by your own money. It is treated like other credit cards in the eyes of the three credit bureaus, so using it wisely can help you rebuild your credit score.
Don't worry about not getting approved due to your bad credit. Cards like the UNITY Visa are made to help people with bad credit get out of their current situation and into a better financial position. The minimum deposit we accept is $300, which will equal your credit line.
Getting money back during tax time can mean finally buying that pricey item you've been eyeing. But if you have bad credit, using that money to rebuild your credit would be a much better option. Take your tax refund and open your new UNITY Visa Secured Card today.