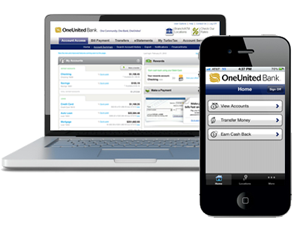 With OneUnited OnLine you can

All with no charge to you! Yes FREE! Simply Enroll.
As always your security is a priority at OneUnited Bank and we have partnered with industry leaders Intuit Financial Services and Verisign to ensure that we provide you with the most secure online banking experience available. With OneUnited Bank, you can be assured that your banking is safe and secure.
*Regular transfer is free. Next day transfer is available for a fee with minimum balance requirement.
Please consult the OneUnited OnLine Banking Agreement and Disclosures for more details.